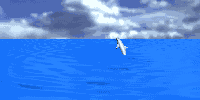 Early sailors encountered dolphins in their bow waves and sometimes in their nets.


The boy riding a dolphin image appeared on Roman coins.
Even earlier in history, land-based animals entered the water, eventually to become dolphins.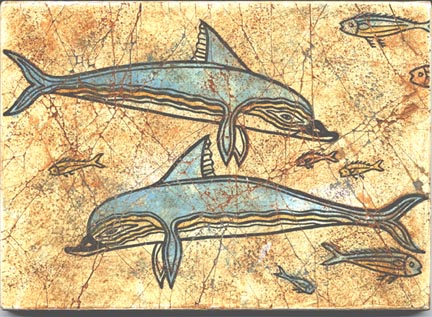 Dolphin fresco from the Queen's Chamber, Knossos, Crete
(there is actually a net in the background of this image)
Ed Ellsworth founded The Dolphin Network in the '80s to educate the public about the dolphin/tuna net and captivity issues.
On the Dolphin Trail
Following the Interdependence Path


Dolphin Researcher Ed Ellsworth is back to do another presentation about his work with dolphins. He is producing a video for this event in which he will revisit some of the places where he interacted with dolphins.

As a child, Ed witnessed fishermen killing dolphins in Nago Bay, Okinawa. It bothered him on a deep level, motivating him to learn more about dolphins. He found himself reading any books he could find on the subject, including those by Dr. John C. Lilly (Mind of the Dolphin, etc.).

Eventually, in 1979, he met Dr. John C. Lilly just as Lilly was putting together a dolphin communication project. A team formed under the auspices of the Human/Dolphin Foundation, with the project called JANUS (Joint Analog Numerical Understanding System). Ed moved to the San Francisco Bay Area to join with John Lilly and Project JANUS from 1980 to 1985, doing computer and video work, and performing communication and visual discrimination research with bottlenose dolphins for his Masters in Research Psychology.

Ed is mentioned in the books John Lilly So Far and The Scientist, and was featured as a dolphin communications expert in the Discovery Channel movie For the Love of Dolphins. He and John are in For the Love of Dolphins, produced by CityTV, which aired on Discovery Channel. He is also known for his public education work as founder of The Dolphin Network, bringing public awareness to the tuna/dolphin netting issue.

He worked with National Marine Fisheries and the Marine Mammal Commission to create the first dolphin release permits. He helped put these two Atlantic bottlenose dolphins, Joe and Rosalie, on the plane to Florida, and they were sent to Dolphin Research Center, in Grassey Key, Florida.

Through this work, he came to realize that he did not want to work with dolphins in captivity any more, that captive dolphins were social isolates, and that their consciousness deserves better recognition. He began leading trips in the wild, to the Bahamas, and the Florida Keys to take people to experience wild dolphins.

Ed says, "We have a great deal to learn from the dolphins. But the simplest thing to understand is this -- interdependence. What humans have come to honor over all else is independence. What we need to learn is interdependence. Our species survival probably depends on it."
---